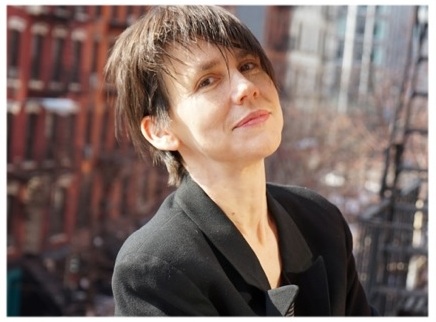 Prize-winning journalist and author of Eating Fire: My Life as a Lesbian Avenger, Kelly Cogswell set out from Kentucky armed only with an electric typewriter, a stack of poems, and willingness to scrape by as a maid, dishwasher, prep cook and temporary secretary.
In New York, following an unscheduled (and naked) performance that stunned the NYU Department of Performance Studies, she decided to put her Medusa-like powers to good use, first as a lesbian activist, and later, as an independent journalist and monger of extremely underground art.
Co-founder and co-editor of The Gully online magazine (2000-2006), her work has appeared in a range of venues including the International Herald Tribune, EatingWell, Louisville's Courier-Journal, and THIS WAY OUT: the international lesbian & gay radio magazine. Her column in New York's Gay City News has been recognized by the New York Press Association.
She was awarded the Joan Heller-Diane Bernard Fellowship for her project documenting the Lesbian Avengers. And her book, Eating Fire: My Life as a Lesbian Avenger was a finalist for a Lambda Literary Award, a Publishing Triangle Award, and was also featured on The 2015 Over the Rainbow Project book list.
In 2018, she was awarded a Poynter fellowship in journalism at Yale University.
Her most recent project is a new memoir, A Word of Our Own, which explores the word lesbian in a narrative about her body and life.
She is also proud to introduce, A Dyke A Broad, a new newsletter offering "lesbian views on everything, especially politics, Paris, feminist issues, and that thing in the back of my fridge.